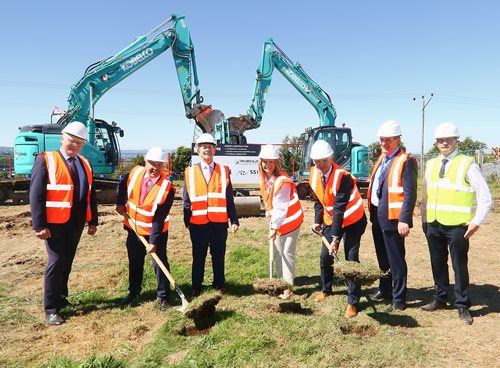 Thursday, 11 August 2022:
Rhenus Ireland has announced plans to build a brand-new site at the Rhenus Parkmore facility in Galway, western Ireland. Once completed, the new facility will double Parkmore's existing capacity to 20,000 square metres, comprising a multi-client warehouse to service the west of Ireland.
IDA Ireland, together with Clodagh Higgins, Mayor of Galway City, attended a sod-turning event at the Rhenus Parkmore facility on Wednesday 10 August to mark the construction of a new 10,000 square metre facility.
The construction of the building has already commenced and will be operational in the fourth quarter of 2023, accommodating existing Rhenus customers and facilitating the creation of space for new customers.
Announcing the news,
David Williams, CEO Rhenus Road, Region North Europe
, said: "Today's announcement of a new facility will allow Rhenus to unlock new opportunities and partner with businesses to provide world-class logistics and supply chain solutions. We are excited to further build and leverage the knowledge of our Rhenus Ireland team."
"The opening of this new site builds on the strong customer relationships built by SSL management and staff over 20 years. This new facility is part of our 2022-2027 development plan, providing for an increase in our logistics capacity for existing and new customers on the island of Ireland. A number of other projects are also being considered by Rhenus in Ireland," added
Declan Sinnott, Managing Director of Rhenus Ireland
.
IDA Ireland's Head of Regional Business Development, Ray O'Connor
said: "Today's announcement by Rhenus is a vote of confidence in their Irish team with an investment that expands its service offering in Ireland. Rhenus plays a vital role in facilitating seamless supply chain solutions to many national and international companies operating across Ireland."

About Rhenus
The Rhenus Group is one of the leading logistics specialists with global business operations and annual turnover amounting to EUR 7.0 billion. 37,500 employees work at 970 business sites and develop innovative solutions along the complete supply chain. Whether providing transport, warehousing, customs clearance or value-added services, the family-owned business pools its operations in various business units where the needs of customers are the major focus at all times.