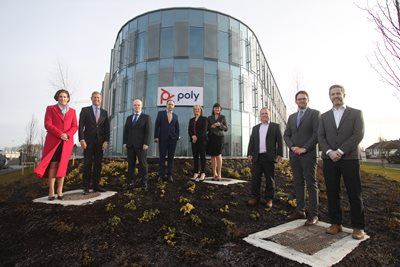 Wednesday May 4th 2022 Poly (NYSE: POLY), the global audio and video technology powerhouse that created the headset used by Neil Armstrong in 1969 to communicate one of the world's most famous phrases to the world, has officially landed in Ireland and is on the search for new talent!

The first to sign a lease at the new Crown Square development in Galway, Poly's investment is strategically located there to draw on the local market talent and expertise, while meeting the growing demand for its audio and video technology as businesses adjust to managing highly distributed workforces.

Minister Hildegarde Naughton, TD, Minister of State at the Department of the Environment, Climate and Communications and Minister of State for Trade Promotion, Digital and Company Regulation, Robert Troy TD, have officially launched Poly's modern vibrant, integrated twelve-acre landscaped campus, at Two Crown Square, Galway as they signed their lease and commenced their recruitment drive.

"The world of work is changing, and with it comes highly distributed workforces and new hybrid working policies and practices. Global companies like Poly sit at the heart of that transformation and their commitment to Ireland, and especially Galway, is a great boost to our growing technology sector" said Minister Naughton

Welcoming the announcement, Minister Troy said: "We are delighted to welcome Poly to Ireland as they take the next steps to opening their first Irish office in Galway. The jobs and opportunities they are creating will be of great benefit to Galway and the wider West region, and we are confident that the skilled workforce of the region will be an asset to Poly as they continue to grow their business here"

Scheduled to complete its fitout and open its doors later in the year, creating more than two-hundred high-skilled jobs in the region since 2021 and over the next four years, Two Crown Square will be home to Poly's new Europe, Middle East, and Africa (EMEA) Centre of Excellence, the global brand's Research and Development lab, designed to serve as the innovation heartbeat for the company's sixty-five offices across the globe.

Applications are now open for a wide variety of roles across Software Engineering, sales, human resources, customer support, legal, and finance, and new recruits will benefit from the exciting Galway environment that blends offices, retail, residences and hospitality. Location and commute are key to attracting talent and this development offers work-life balance, sustainable workspaces, attractive residences, lifestyle conveniences and of course, a culture of hospitality for which Galway is renowned.

Also in attendance at the launch, from head office in the USA, Poly's Chief Transformation Officer, Gloria Loredo said: "Poly has been at the forefront of communication for over sixty years, and we aim to continue to drive change and innovation to give people the freedom to work seamlessly from anywhere, including from Galway! Today marks another milestone for Poly as we launch the countdown to the opening of our new offices and the ramp up of our recruitment drive. Our Galway address will serve as a global innovation hub and will be home to Poly's primary Research and Development lab in EMEA, drawing on Ireland-based tech talent and expertise. We believe that this strategic move will enable us to maximise our business performance to better serve customers, leverage the existing technology talent pool in Ireland to fill critical roles, and support our company's growth," Ms. Loredo concluded.
Commenting on Poly's investment in the region, Denis Curran, IDA Ireland's Head of Property, Regions and Business Enterprise said: "Congratulations to all the team at Poly on today's significant milestone. Poly's presence in Galway will add to the growing technology cluster in the West region. It also demonstrates the company's confidence in the highly-skilled and talented workforce that exists in Galway city, county and across the West region. I wish the company every success as it commences its recruitment campaign for its 200 new highly skilled jobs."

Poly is a global communications company that powers meaningful human connection and collaboration. Founded in 1961 in Santa Cruz, California, Poly employs more than 6,000 people globally.

To apply for a role at Poly's new EMEA Centre of Excellence in Galway, Ireland, visit www.poly.com/ireland.