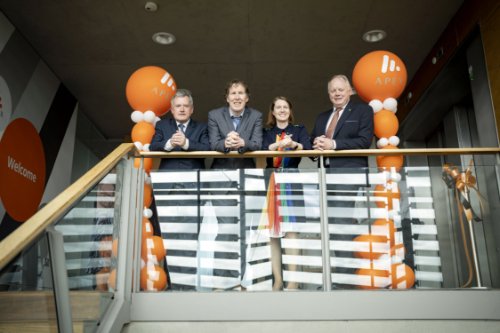 Global, May 25th, 2023
— Apex Group Ltd. ("Apex Group" or "The Group"), a global financial services provider, today announced that it has expanded its established presence in Ireland, with the opening of a new Limerick office and creation of new job opportunities.
This project is supported by the Irish Government through IDA Ireland.
Apex Group's new Limerick office builds on the Group's existing presence in Ireland of approximately 500 experts across offices in Dublin, Cork, Maynooth and Sligo. The Group is currently represented in Limerick, via management company ("ManCo") sub-brand FundRock, which has increased in size from 10 people in 2019 to nearly 100 people in 2023.
Apex Group has today set out plans to create more roles in Limerick and is seeking to hire talented professionals with experience in fund administration, accounting and corporate services industries. For more information, please visit
Apex Group's Careers Listings
.
This growth is driven by increased demand from both new and existing clients for Apex Group's locally delivered, single-source solution in Ireland, including Fund Administration, Corporate Solutions, Banking, Depositary & Custody and ManCo services.
This announcement follows continued organic and acquisitive growth for Apex Group in Ireland, including the recent client win of
Boston Partners for Management Company Services
and planned
acquisition of the Irish depositary business of Bank of America
.
Bryan Atkinson, Country Head – Ireland at Apex Group comments:
"We are excited to expand our footprint in Ireland with the opening of our new Limerick office to deliver our full suite of Fund and Corporate Solutions, alongside our FundRock and EDB brands. With its thriving business ecosystem, and established financial services community, Limerick offers an abundant pool of talented and highly skilled professionals to help drive our local growth plans. We would like to thank the IDA Ireland team for their continued support and valuable insights."
Minister for Enterprise Trade & Employment, Simon Coveney TD, adds;
"The launch of Apex Group's new Limerick hub is further evidence of Ireland's growing reputation as a sought-after home for international financial services providers. With multiple offices across Ireland, Apex Group clearly understands that local hubs offer attractive, proximate employment opportunities, and this approach will undoubtedly attract talented professionals to join their team. I wish the best of luck to Bryan and all the leadership team."
Minister of State for Local Government and Planning, Kieran O'Donnell TD:
"Today, I am delighted to welcome the official opening of Apex Group's new offices here in Dooradoyle, Limerick City with the creation various new jobs which they are now recruiting. I would like to thank the Apex Group for selecting Limerick as a key location for its growth plans and acknowledge the strong financial services pool that exists in the region.
This is a further strong endorsement of what Brand Limerick and the Mid-West Region has to offer in terms of our highly skilled workforce and third level institutions. I wish to acknowledge the work of IDA Ireland in bringing this exciting investment to our City and region".
Michael Lohan, CEO, IDA Ireland, commented:
"Apex Group's commitment to growth in Ireland is excellent news for Limerick and complements the Midwest's strong IFS cluster. IDA Ireland remains committed to winning investment and jobs for every region in the country. Supporting and facilitating our global clients establish and expand in Ireland is central to IDA Ireland's strategy. I wish Apex Group every success."